Page 2 of 2 •
1, 2
I dont know why pp try to rank in top 100. I dont think they can make profit, or even a loss. Isnt it simple just rank from 400-500 and make a greater profit?


bacsiha




Posts

: 552


Join date

: 2012-10-09



Well if you ended up ranked in the top 10 for the mid event you got 3 spirit summons. If you got lucky and all 3 of them were good (not slumbering) you could stand to earn 700-900ep from selling just those.

If you were in the top 20 at the end you would get an Great Evolution Soul. I am not sure exactly how much they are worth but as they can turn any AA into an AA+ it's foreseeable that they would be worth close to the rarest AA's that are out there. Plus the reward AA

Demoni




Posts

: 133


Join date

: 2012-09-29



I known
But how about previous event? You dont have anything special like that


bacsiha




Posts

: 552


Join date

: 2012-10-09



I just wanted to knock this important topic to the top with a few updates that will hopefully help some people out. I wanted to show visual examples of prog use and a step by step case study of how to rank in an event. I did not add much on specialty event items to capture monsters as its kind of self obvious once you start playing events. Hopefully someone finds this update useful.
Special Events & Event Progs
Dark Summoner continually hosts various special events, most of which contain their own sets of missions. These range from the straightforward tower-style events, where the point is to complete as many floors as possible, to a tournament with special rules for player vs. player battle. There is even the occasional clan vs clan based events. Other events include giveaway "bonanzas", where players receive items and rare monsters as a gift from the developers. These events are separated by a gap of 1 day, and usually last between 1 to 2 weeks. Most events tend to be energy based but there is a periodic bp based event provided as the main event. On occasion Ateam will provide smaller scale bp based events while hosting the main energy event. This allows players of both play styles to work towards rewards.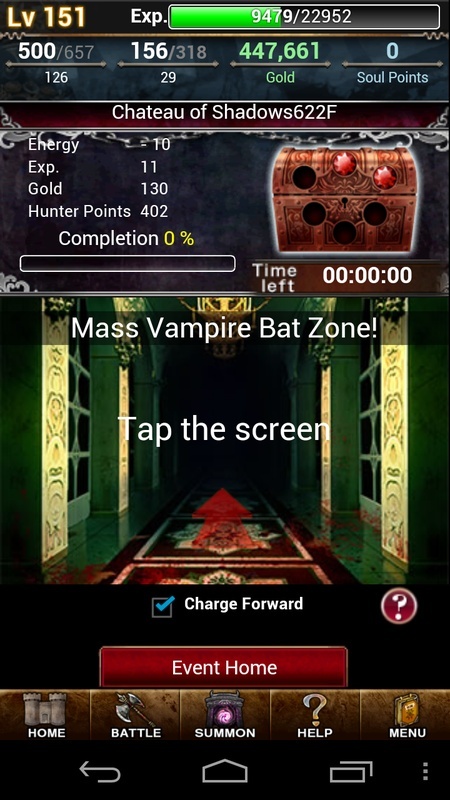 Dark Summoner has previously had collection missions, which were comprised of collecting items, randomly awarded for doing regular missions. The items usually can only be collected from uncompleted missions or the last mission available if all are completed, in order to keep high-level players from farming 1-energy missions. Some of these events are to collect items to evolve a freely given card. The further you progress the higher the rarity of the card. There are also events based off of missions indirectly. An example would be divinity bosses. You must conduct the missions to collect the loot necessary to complete a specific loot set and get the raid crystal for that set. You gather a number of required raid crystals and use them to battle a divinity boss.
Event Progs
Event progs are progress cards used for events. Basically if you are conducting a tower event if you have a prog for that event set as your leader you may go 4-6x further per area with that card. For example on a tower event lets say it takes you 4 points to complete five floors. Someone without the prog has use 4-6x the energy to reach the same spot so it may take them 24 energy to complete five floors. You can quickly see how progs can make ranking in an event much more economical. In battle point bassed events progs usually have a multiplier effect on stats. Sometimes on themselves and sometimes on the entire form they are used with. It depends on the event itself. Ateam doesn't always do the best job explaining if a prog for bp events will be specific or form based so always read the fine print and ask others who have the progs before acquiring one. When using an event prog in your form ALWAYS have your defensive form setup. For some reason people seem to enjoy attacking people who have progs in their form hoping for an easy victory. If you don't have your defense form up they may get just that. So always be prepared.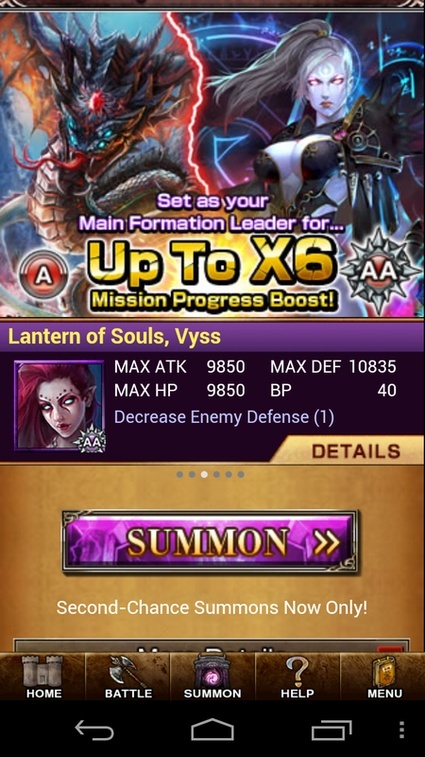 This covers that bare basics of how an event works and how event progs work.
Ok just a warning I am about to plagiarize the OP with minor changes before adding the last images.
So you wanna rank in DS events? (A Noob's Guide to Common Strategies & Mistakes)
Everywhere you look for current information on DS, or even for trade values; you are more likely to find current players complaining about the current event (whatever it is) and the rewards given by that event. I doubt very seriously that this little piece of "rant" will do anything to change that trend, but my sincerest hopes are that one or two of the possible readers of this will either learn something themselves, or will link the article to someone who may need its advice...
#1 In order to rank in ANY event, You need to have been preparing to do so for a few days. 
(Even at lvl 200, you will routinely see people 
dropping allies and requesting new ones
, or trying to sell monsters for below market value to re-stock their EP/BP supplies in a hurry) YOU should be doing the same thing except its best to sell ahead of time at full value and save up your EP/BP stocks to engage an event of your choosing. Even a 50-100 point transfer from bp to ep or vice-versa will save dozens of potions during the event.
#2 Ranking against people who are higher levels than you is HARD... 
(No, really, I mean it. The math involved isn't too difficult here... for every two levels difference a player gains 6 skill points (3 per level) and an ally slot worth an additional 5 skill points. every 2 levels = 11 skill difference.) Level 100 player has 550 less skill points than a level 200 player does....
...Now imagine if both players are burning EP to rank.
#3 Be concerned with your level.
(While there are many event you could possibly rank top 500 in at a low to mid range level (80-100)ish) There is a much better chance that you will rank as your levels increase. Use EP and BP as it was intended... to power through levels and gain hose extra skill points!)
#4 TRADE!!! 
(In this game, using the trade market is much slower than making a small list and 
posting it on the top 3 ranked profiles
. A few minutes at key times during the day will often get you a few EP and clear up inventory for monsters you have no intention on ever using. This also applies to selling or buying skill stacks or singles.)
#5 Have allies that consistently rank. 
(Falls under the premise of "surround yourself with the types of people you want to be" ... but moreso, it's easier to gauge how well you are doing in an event if you have multiple people who can privately let you know what their rank was and how many of the object they had to get that rank.) See the guide below for a clear example of how this is important and useful.
#6 Top ranked people "place" in event to make a profit, not to keep the rewards. 
If you really want that reward, perhaps you should be patient for the market to flood and the prices to drop to snag one up. I often decide on if I am going to participate in an event by the amount of EP I think I'll earn by spending hours clicking the same button over and over again. A good way to tell if something is desirable if you don't know. Ask someone highly ranked or who ranks often who would know. Rule of thumb brutes and demons tend to sell the best. And if its a female that is half naked odds are it will sell. But it will have more competition for that reward just for that fact as well.
IF THE PROFIT ISN'T THERE... DON'T DO THE EVENT!!! And if the profit part becomes difficult do what you can to recoup what you spent at very least.
#7 Dropping and re-adding allies to flip 
skill points
.
Although this is a viable method to move a large number of skill points from energy to bp or vice versa it is impossible to flip them all. If you use this method a sizable portion of points will be stuck in the former category they were in. This is because as you drop allies the game takes points from either energy or BP. But for large transfers it takes from both meaning you can only shift a partial amount and if you keep using this method you will over time see the numbers begin to level out a bit which can make you neither top heavy in energy or BP which can be bad. That is why it is critical to save up your jewels to acquire the skill change item to be able to shift ALL skill points to their desired category.
#8 Take advantage of in game freebies.
For instance nearly all events give you additional perks daily if you tweet about the event. Whether its 100 ep/bp points restored or half of your ep/bp restored or something else its free and it can help you. Sometimes those few points are all you need to hit the next stage of the event or level up so your stats refill. If you don't want to spam your friends and followers on twitter create an account specifically for the game that no one views. That way when you tweet your aren't flooding the twittersphere or whatever its called with spam messages. Sometimes the tweets tend to fail. If that is the case delete a sentence or change a few characters around in the message to be tweeted. It appears there is some sort of spam blocker so it blocks the same message from posting multiple times.
Even if you don't rank in the event it is still a great way to prepare for the future. You usually gain more experience from events than standard methods using less energy meaning it is a great way to level up quickly and be better prepared for future events.
Event Case Study
As always this and more can be found on the DS guide site. Link in my signature. If you have questions feel free to PM me or contact me on KiK for a much faster response.
Annotation: As noted below by a responding comment the AAA in this example does not currently sell for the value stated. I wrote this guide literally the hour the event finished so it is important to note that cards usually continually devalue overtime and will not sustain their value. Meaning sell quickly to get your profit otherwise you will be caught in a price war where everyone tries to undercut each other's prices to sell their card continually driving the price (and your profit) down. Thanks for pointing that out.
Last edited by Nesfuratu on Mon Nov 18, 2013 8:33 am; edited 1 time in total
~~~~~~~~~~~~~~~~~~~~~~~~
Advanced Dark Summoner Guides
KiK: Nesfuratu

It used to be a good guide, but is a little outdated now.
Some points to add/emphasize.
#1 EP/BP Ally reset have a governing formula whereby you can't go below this EP/BP value.
I believe it's
EP = [LEVEL] x 1.5 + 25    ;     BP = [LEVEL] x 1.5 + 75
(There's a thread in the forum with the exact formula)
#2 You get 10 ally slot when you first started (lvl 1) and every "even" levels thereafter. However, max ally slot = 100. Hence from lvl 180 onwards, you stop getting ally slot. 
TL;DR  From lvl 180-200 = no additional ally spot = less 50 points.
#3 No more auctions, but trade market has it's own rules and tricks (Learn it and be rich).
#4 Depending on what you want to achieve, but if you just want to do the event to sell the rewards (for a profit), then don't overdo it. Usually it's easier to break even with Rank 101-500 vs Rank 50. Rank 1-10 is usually glory and mostly results in making a loss.
#5 At some point of time, your greatest enemy is "Time". The events are so slow and takes lots of time, patience and clicking to rank. 
#6 Join a good clan with many people ranking. It provides you with good updates and let you know where you stand. Ally wont work as efficiently.
@
Nesfuratu
I'm not sure when you wrote your guide, but that brute won't sell for that much.
It's currently only 70EP for AAA and if you want a good skill, you need to be really lucky with RSS or invest with a good spirit. RSS can profit if you're lucky but using a spirit will most likely cost you more than you can profit.

Dyles




Posts

: 57


Join date

: 2013-03-21



I wrote the guide the hour the event finished. Obviously devaluation has set in at this point but I wanted to show an example of how an event goes from start to finish. I probably should note that in the guide so others aren't confused by that as well.
~~~~~~~~~~~~~~~~~~~~~~~~
Advanced Dark Summoner Guides
KiK: Nesfuratu

Page 2 of 2 •
1, 2
---
Permissions in this forum:
You
cannot
reply to topics in this forum